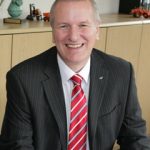 To co-incide with our 10th anniversary in the UK, we chatted to DIV's head honcho, Mr Tim Waples. As the first British director of Doosan's UK forklift business, Tim Waples has overseen a remarkable period in the company's history.

From a relatively unknown player in the market, Doosan has become the forklift of choice for thousands of businesses, including many of the UK's leading materials handling organisations. What began as a small import operation in Crick is now nationwide, via two dozen dealers and a Northampton head office with its own support staff, PDI & training facilities. The recently added Forklift Parts Distribution Centre is further testament to the company's long-term commitment to the UK.
"We have come a long way in the past few years," says Tim, also the current BITA President and IMHX committee member. "It wasn't so long ago that no one had even heard of the name Doosan, let alone knew what we were capable of. Thankfully that's changed considerably."
The UK is a key territory for Doosan. Not only does it fulfil a strategically important role in relation to the rest of Europe, it also provides valuable information and feedback in one of the world's most sophisticated materials handling markets.
Traditionally the role of managing the business fell to a senior Korean executive, but that changed in 2007 when, having just turned 50, Tim took over the reins. Already the longest-serving member of the UK business, Tim brought an air of calm, assuredness stemming from his in-depth knowledge of the organisation. His practical, problem-solving approach combined with Doosan's renowned can-do spirit and flexibility to create a powerful proposition. Two years of record sales followed, in turn followed by the difficult trading conditions which, despite the general industry gloom, Doosan has navigated with relative calm.
"We have been able to focus on our strengths. Our equipment is aimed at those looking for great value and productivity, as well as reliability and simplicity. It's this mass market appeal that has helped us through the recession without too much pain."
This summer, Doosan announced the formation of a new affiliate company, Doosan Industrial Vehicle Co., Ltd. The new business oversees all Doosan's global forklift activities and focuses on pushing Doosan onto the next level, as it continues to make great strides in the materials handling market.
"Some of our dealers were a little anxious about the changes, but they needn't have worried. The new business is more focused and allows us greater freedom to pursue our objectives, whilst retaining all the positive links with the wider Doosan Group."
During the implementation of the new group changes, Tim was also busy negotiating two more important investments within the dealer group.
"We wanted to consolidate our position with two of our leading distributors by taking a direct stake in their businesses. It's still early days, and I believe the case for direct involvement in sales by manufacturers is not yet entirely proven, but our partnership approach with Genesis and Fork Truck Direct has given these leading dealers a new burst of energy and will pay us dividends in the long run."
As if all this investment activity wasn't enough, the UK's biggest materials handling equipment deal was also in negotiation, involving Doosan and their national partner Rushlift.
"When we began talking to Saint-Gobain it was clear that this deal was on a completely different level. We wanted to ensure we could provide them everything they needed and it's been challenging, hard work at times, involving direct involvement with the factory and our Seoul head office."
The result was the much publicised largest ever deal in the UK, an achievement that all participants can be rightly proud, says Tim: "Whilst Rushlift developed a superb service offering, we concentrated on proving our own credentials and product capabilities. In the end, I felt that given the criteria set by them, there was not another manufacturer capable of providing such a comprehensive offering to Saint-Gobain. We have the products, the support, the track-record and the willingness to go that extra mile to add real value to the business."
"It's obviously the largest deal of its kind, but this sort of opportunity comes around very rarely and we can already see this helping us to build up our profile even further as other fleet deals have done previously."
There's no time to rest on current or past achievements however, as 'pushing on to the next level ' means there's always more to do.
Concludes Tim: "We are pretty sanguine about the future, but there's no limit to our ambition. We have new products on the horizon, new distributors and customers to welcome and no doubt new challenges ahead. The more people get to know us, the more they see we are serious about offering a credible alternative to many of the premium brands, to the point where we too are now becoming recognised for the quality of our products and for our achievements."
Over 100 Doosan models are available from 1.5 to 16.0 tonnes for IC models and 1.3 to 5.0 tonnes electric models.