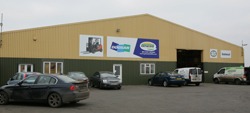 Doosan has taken its first steps into direct sales by acquiring a majority stake in one of its top performing dealers, Genesis Forklift Trucks Ltd.
The move signals the Korean company's intention to build on recent investments in both expanding its product range and establishing its UK parts distribution centre.
Genesis is already a leading light in the Doosan network, regularly challenging for Doosan UK's top dealer status over the past five years.
Founded in 2001, the Huntingdon-based Genesis business is valued in excess of £2m, the founding members will be staying on as directors, DIUK's general manager, Tim Waples will take over as Chairman assisting with the next stage in the business's development.

Tim expressed his excitement over the new venture stating the company has been looking to strengthen its ties in the UK for some time. Said Tim: "This is the most significant investment in the UK since the business was established. We are continuing to grow Doosan's presence and see this as the perfect platform to bring us closer to our customers and make us even more competitive in the UK market."
"We have been particularly impressed with what Genesis has done for us over the years as a Doosan dealer and believe this investment will be beneficial for all parties. As well as help improving IT systems and buying power, we believe both companies will benefit from Doosan's influence and management skills."
With the new Doosan funds being ear-marked for an expansion into Norfolk and other currently vacant territories around the UK, several new staff members across sales and service will be employed.
Genesis' sales director, Paul Brierley explained that financial security and belonging to a large organisation were key incentives, whilst being able to offer modern hire equipment also proved an attraction.
"We're delighted with the move. It not only secures our company's future with stability and financial backing, but we are now able to add the latest Doosan equipment to our hire fleet to help satisfy our customers' ever-increasing demand for short term hire."
Paul also believes Doosan's investments will allow them to tackle larger fleet and regional customers with direct support from one of the world's most exciting and pro-active manufacturers.
Said Paul: "Our skill sets are a perfect compliment to Doosan's. The tie up enables our companies to push onto the next level, as well as work collaboratively to provide our customers with the reassurance and confidence of belonging to a larger group."
With these major growth plans now put in place, it is clear to see that this is a pivotal moment for Genesis, as they look forward to exciting prospects as part of the Doosan brand. With Doosan providing the support and flexibility needed to push the company to even greater success in the future.