Doosan is a leading supplier of forklifts to major blue chip organisations and the only major supplier to have two series of forklifts.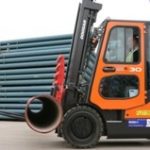 The Pro-5 Series
Building rugged, reliable, yet simple trucks, has allowed us to become the leading provider of value forklifts in the UK. Our Pro-5 range is the cornerstone of our business.
The complete range of electric, LPG and diesel Pro-5 models is our most successful ever, with a host of features including our trademark oil cooled disk brakes and integral sideshift as standard, plus our award winning safety features and class-leading ergonomics.
The GX Range
Our economy GX Series was developed to provide a low-cost option of forklift without sacrificing build quality and reliability. In addition to popular features such as spacious operating compartments, excellent visibility and high powered engines, the GX also includes operator sensing and rugged, proven components.
Warehouse Range
The latest addition to our materials handling product offering, the warehouse range includes pallet trucks, stackers and order pickers designed and built by Doosan in Germany. Characterised by high quality manufacturing and heavy duty materials, the warehouse models offer rugged productivity and durability.
Low Emissions
In addition to superb features such as oil cooled disk brakes, swing-down bottle carriers and integral sideshift, Doosan continually strives to bring innovations to its forklift range. Our LPG trucks have some of the lowest emissions on the market, whilst at the top end of our range, our 11, 13 and 16 tonnes capacity models have some of the most ergonomic operator compartments in the market.
Service Backup
With over 375 mobile service engineers in the field, our UK coverage is second to none, with all our engineers receiving regular training at our Northampton HQ.
A Global Success Story
Doosan is the World's leading value forklift brand and was launched in 2005 following the purchase of a 51 percent controlling share in Daewoo Heavy Industries & Machinery by the oldest corporation in Korea, Doosan.
Since then, the company has experienced record growth in the UK and continues to build on its reputation for simple, powerful products designed for the UK and European markets.
UK Infrastructure
Our UK Headquarters in Northampton houses our service and technical support team, who provide factory training to all 500+ Doosan dealers' engineers who cover the length and breadth of the UK.
We hold a large stock of popular new machines in our PDI facility and our impressive UK Parts Distribution Centre is fully stocked with all the parts you need throughout the life of your forklift and we actively encourage end users to visit our centre to see first-hand our products and after-sales support we offer to all our customers.
Simple, Powerful Performance.
All our forklifts are designed with a simple ethos – to make our machines the best value truck on the market. That means we use proven technology and rugged, durable components to ensure low lifetime operating costs and with minimal maintenance.
The Range
Pro-5 Range:  1.0 to 16 tonnes electric, gas & diesel, 88 high specification models
GX Series:  1.5 to 3.0 tonnes gas & diesel, 10 entry level models
Warehouse:  1.25 to 5.0 tonnes reach trucks, pallet trucks, stackers & order pickers